About Cabinetmaking

Learn fundamentals of cabinetmaking materials, machines & safety as well as specialized techniques like veneering and carving. Hands-on project work is the heart of the program. Our teaching staff comes from different industry backgrounds, from custom cabinetry, furniture design, repair and restoration, film sets, and aerospace. Our graduates work in big and small shops; build kitchens, office furniture, commercial interiors; they outfit private jets, restore antiques, design furniture and teach others.
Learning Environment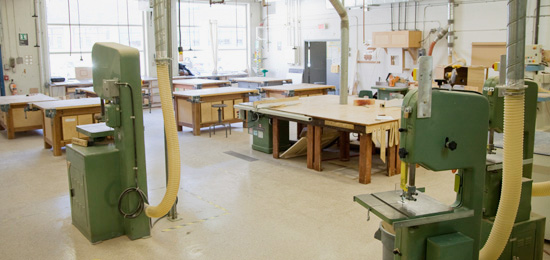 Employment Prospects
Architectural millwork cabinetmaker
Custom kitchen cabinetmaker
Aircraft furnishings cabinetmaker
Custom furniture and fine craft production
Repair and restoration
Start Dates
Apply Now!
Cabinetmaking on Global News Montreal
Program outline
The Cabinetmaking program leading to a DEP is a 1650 hour course. Day program (6 hrs/day): approximately 14 months. Evening program (5 hrs/evening): approximately 17 months.
Program Competencies

Hours

Credits

1)

The Trade and the Training Process
Introduction to the program. Self-directed work site visits.

15

1

2)

Wood & Related Materials
How to choose the best wood or sheet for a job. Identifying woods. Hand tool work.

60

4

3)

Assembly Methods & Devices
Choosing and using the appropriate joinery and hardwood. Hand tool work.

45

3

4)

Furniture Drafting & Design
Traditional and computer software drawing techniques. Translating 2-D to 3-D

90

6

5)

Hand Tools
Use and sharpening of traditional woodworking hand tools. Project work.

60

4

6)

Health & Safety Study of machine and chemical hazards of the trade. Developing safe work habits.

15

1

7)

Mathematics
Tutorial on measurement and calculations used in the trade.

30

2

8)

Portable Machine Tools
Training in use of hand-held electric power tools such as drills, saws, routers. Project work.

30

2

9)

Stationary Machine Tools
Training in use of large floor mounted woodworking machines, such as table saws, bandsaws, planers and lathes. Project work.

105

7

10)

Worksite Visits
Field trips to large and small shops.

30

2

11)

Procedure Planning
How to plan the steps for a successful build.

45

3

12)

Solid Wood Furniture
Construction of four solid wood projects. Skill-building in machining techniques.

120

8

13)

Furniture Made of Sheet Materials
Training on panel saws and other machines for working with sheetstock. Planning and construction of casework using panel products and industry-standard hardware.

120

8

14)

Patterns, Templates, Jigs & Fixtures
Shop-built construction aids for producing multiple wooden components.

60

4

15)

Furniture Styles
Exploration of historical furniture styles and their influence today.

30

2

16)

Shop Drawings & Sketches
Production of construction drawings and full-scale patterns. Training in plan reading.

60

4

17)

Decorative Woodwork
Construction of projects focusing on making and instralling mouldings, hanging doors and locks.

75

5

18)

Basic Veneering
Training in decorative veneer matches and pressing techniques. Project work.

30

2

19)

Basic Marquetry
Training in marquetry techniques. Production of marquetry panels.

45

3

20)

Furniture Carving
Training in wood carving techniques and tools.

45

3

21)

Furniture Finishing
Training in hand application and spraying of stains and clear finishes.

60

4

22)

Solid Wood Furniture II
Training in hand application and spraying of stains and clear finishes.

120

8

23)

Furniture Repair & Restoration
Training in techniques and materials for repair. Hands-on restoration of damaged pieces.

90

6

24)

Staircases
Tutorial on staircase mathematics, terminology, and layout. Drawing and construction.

120

8

25)

Starting & Managing a Small Business
Research of the job market and setting up and operating a small business. Prototyping and marketing of woodwork.

60

4

26)

Practicum
Three-week internship in the cabinetmaking industry. Transition to the working world.

90

6

Total

1650

110